New stable mate for the MT some parts look familiar ??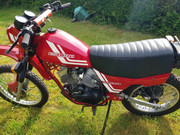 ---
Nice.
"Human beings, who are almost unique in having the ability to learn from the experience of others, are also remarkable for their apparent disinclination to do so." (Adams, 2009).
---
I have owned and rebuilt 5 kangurus and 3 camels, a smooth running economical gem of an engine and many generic parts shared with M.T.s they're starting to fetch good money now as well. ian
Mt 350 (the Expensive one)
---
Yours is an X1 as it has the later disc fitted.ian.
Mt 350 (the Expensive one)
---
Ian

Thanks for the replys do you have any information regarding the kangurus? Manuals ect
Regards
Rick
---
Will have a look in the attic, I live in Market Harborough which is 25 miles from North Leicester Motorcycles which was owened and run by Stuart Mayhew, he sold Moto Morinis from the late seventies until 2018, I spent 20 years buying and sorting through containers that he imported full of Italian motorcycles, and a lot of the time you had to physically climb over bikes to see what was there. From memory the spark is generated from a coil winding, through to solid state transducers, the electrics are 6 volt but the headlamp is 12 volt, dry clutch so car oil can be used, the oil filter is washable, a carb balancer is required but once balanced the engine revs up very quickly 27ish bhp 80-85 mph should have gilardoni nicasil barrels and will never go down in value, also lovely quick release rear wheel (as per mt 500) ian.
Mt 350 (the Expensive one)
---
Hi Ian ,
DId you manage to have a route around the Attic ??

Cheers
Rick
---
Cannot find any thing, just some small block guzzi workshop manuals for the Imola and Monza, sorry, ian
Mt 350 (the Expensive one)
---
Ian
Thanks For looking
Cheers
Rick
---
Sorry I couldn't be of more help.
Mt 350 (the Expensive one)
---
Who is online
Users browsing this forum: No registered users and 1 guest