intriguing new bikes for the Yanks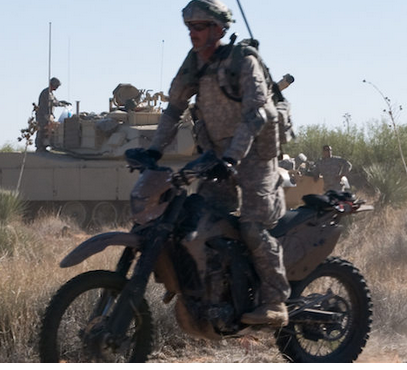 U.S. special operations could be getting some ultra-stealthy new wheels.

First introduced at a national defense industry conference in May as the winners of a DARPA competition, these two futuristic dirt bikes — the Nightmare by LSA Autonomy and the SilentHawk by Logos — are the perfect mix of stealth and strength, capable of traveling up to 80 miles per hour while keeping their noise levels around 55 decibels — about as loud as an indoor conversation or an electric toothbrush.

The dirt bikes are similar but not identical. Weighing in at 400 pounds, the Nightmare is the larger and more powerful of the two. Both models are designed to travel long distances and carry multi-fuel engines that can run on anything from gasoline and jet fuel to olive oil. The motorcycles also have an electric mode powered by lithium batteries for even stealthier operations. But most impressive is the fact that the bikes essentially function as mobile generators.

Their compact size, strength, and versatility paired with their two-wheel drive features make them the perfect all-terrain vehicles for stealthy missions, especially in places like forests and dense urban environments where wider vehicles can't maneuver well.
http://taskandpurpose.com/new-spec-ops- ... ium=social