---
If this bike has been in a museum, with luck you are looking at preservation oil rather than water.
I guess you can't wait to remove the sump plate, primary oil filter , oil pipe and valve behind the oil filter ! Putting a small amount of oil in the bore might also be worthwhile. Fuel tank internal clean and fuel tap and carb strip/clean. You'll be fed up with it but worthwhile in the end
---
This afternoon we cracked out the oxy acetylene torch and removed the rusted up exhaust studs.. surprisingly it all went to plan and couldn't have been easier!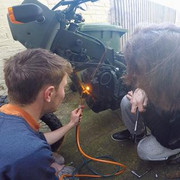 To make the bike happy and hopefully make our lives easier we've started repainting some bits and we've got a whole load of stainless to make it shiny..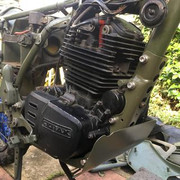 ..VFR 400..
..MT 350..
..Enfield Explorer..
---
Not a lot going on with this bike at the moment, just the odd little bit here and there. We still haven't fired it up yet
But cosmetic work is important as well right?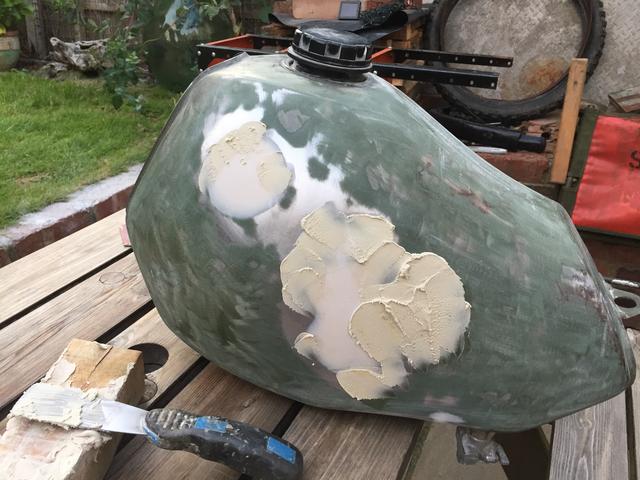 ..VFR 400..
..MT 350..
..Enfield Explorer..
---
Posts: 1131
Joined: Sun Jun 21, 2015 5:32 pm
Location: sheffield
if that's a cake for the big meet yer gonna need more icing
dave.
born to be waserk
thank god for atheism.
sometimes your front legs need to be stiff and the fur on your arse vertical.
---
Aye that would be good, if only someone travelling in a car could bring one! I wouldn't stand a chance on the back on the bike..
..VFR 400..
..MT 350..
..Enfield Explorer..
---
That creamy liquid in the engine is water mixed with the oil.
CanAm Bombardier - 2015 - 2018
MT350 - 2018 - Present
Other bike - Kawasaki ZRX1200S
Current fitment - MZ500 engine upgraded to 560cc, 36mm Dellorto Carb, decompression lever, long-range tank, H4 headlamp conversion, Avon road tyres 80/20.
---
Work has kind of started again on this bike, Felix was after something a bit different with the tank, this is what we settled on after a few pub discussions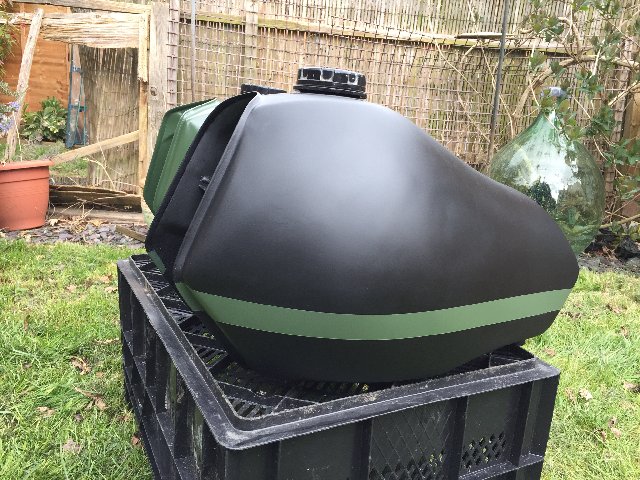 ..VFR 400..
..MT 350..
..Enfield Explorer..
---
The tank design looks good!
---
Cheers, it's always hit and miss wether a non standard paint job will look alright!
..VFR 400..
..MT 350..
..Enfield Explorer..
---
Who is online
Users browsing this forum: No registered users and 2 guests