---
If this bike has been in a museum, with luck you are looking at preservation oil rather than water.
I guess you can't wait to remove the sump plate, primary oil filter , oil pipe and valve behind the oil filter ! Putting a small amount of oil in the bore might also be worthwhile. Fuel tank internal clean and fuel tap and carb strip/clean. You'll be fed up with it but worthwhile in the end
---
This afternoon we cracked out the oxy acetylene torch and removed the rusted up exhaust studs.. surprisingly it all went to plan and couldn't have been easier!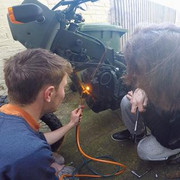 To make the bike happy and hopefully make our lives easier we've started repainting some bits and we've got a whole load of stainless to make it shiny..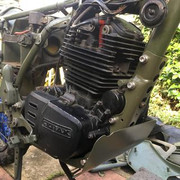 ..VFR 400..
..MT 350..
..Enfield Explorer..
---
Who is online
Users browsing this forum: No registered users and 1 guest